Pamela "Sweet" Melissovas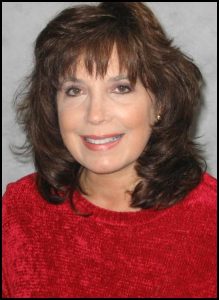 Pamela Melissovas
is a professional female Voice Over Talent, born and raised in Atlanta, Georgia.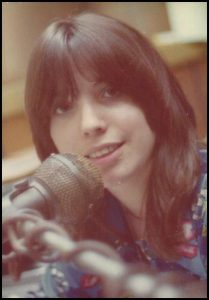 A-seasoned broadcaster,  she began her career as an  On-Air Radio DJ  under the name  "Pamela Sweet",  and was the first female DJ in the  Augusta and Savannah, Georgia markets.  She has proven herself over the years with successful Arbitron/Nielson ratings in all demographics, in all day parts across the southeast, while working in multiple music genres.   Pamela also earned her First Class FCC License at the age of 19, and is a current member of SMPTE.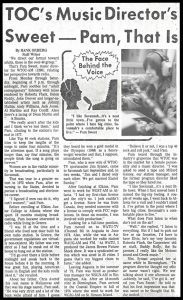 While also as a radio station music director, Pam had a unique talent for "picking the hits".   She worked closely with record company reps from all the labels, published a weekly "Top 20 Hits List," and provided song performance and listener request statistics to Billboard and Radio & Records magazines.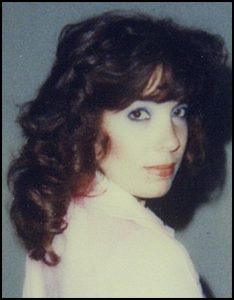 Pamela later transitioned into television, working first as the technical director for  "James Brown's Future Shock" TV show in Augusta, Georgia.
Greater fame and successes came after moving back to Atlanta, Georgia's  WGNX-TV and the Chicago Tribune Broadcasting Group.  There she honed her talents as a producer and director of the Atlanta Forum TV talk show, all the while producing and directing numerous commercials and
promotional projects for the Easter Seals Telethon, Six Flags over Georgia theme park, the Atlanta Hawks basketball team, and Dick Clark's "Puttin' On The Hits - Atlanta".
With a love for all kinds of music, Pam used her musical talent to produce and narrate a three hour "History of Elvis Presley" show, and to provide music and sound effects for documentary and movie projects.
.

Pamela's love of God is first and foremost in all things, and she was taught by her parents early on, "That to whom much is given, much is expected", so giving back, is something that is natural in her spirit.  She supports many charities, be it with time or money, sometimes providing an unexpected meal for someone, maybe giving a surprise bouquet of flowers, and sometimes it is just to be there for someone else.
When not working, Pamela loves being outdoors - working in a garden or just relaxing and soaking up the sunshine and breathing the sea air;  traveling the world and taking photos.    As a first born Greek American, she has a natural pull on her soul to get back to her family and to the Old Country.
~   ~   ~
ONE VOICE CAN MAKE A DIFFERENCE